In order to start using MMS features first thing you need to do, is to configure MMS APN settings, so our device can connect to your mobile carrier network and send&receive multimedia messages.
Go to Settings -> MMS: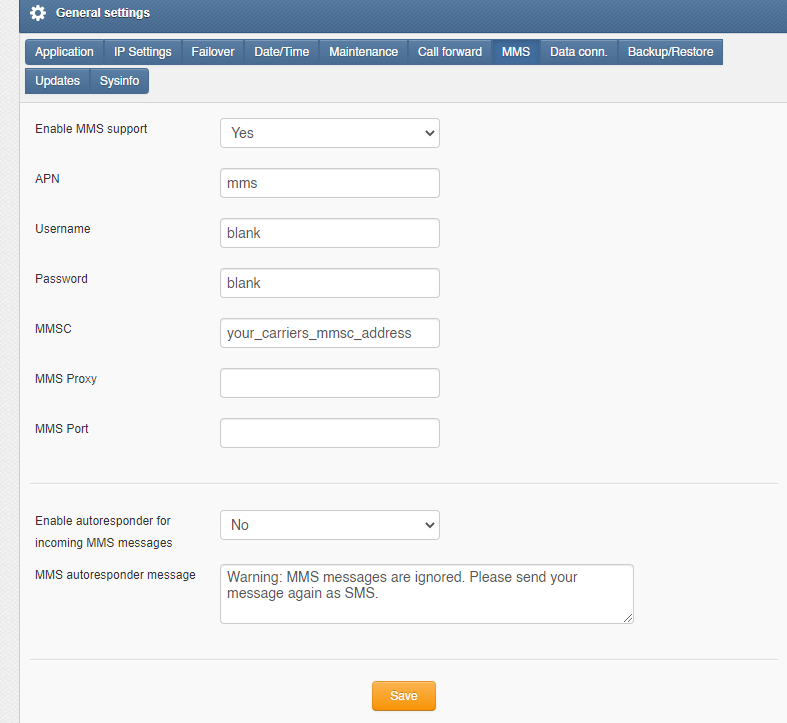 1) Enable MMS support - by changing to Yes
2) Set correct MMS APN configuration, you need to get this information from your carrier.
APN: required parameter, name of the APN
Username: optional parameter
Password: optional parameter
MMSC: required parameter
MMS Proxy: optional parameter
MMS Port: optional parameter
3) Save settings, then disable, and re-enable modem in webUI, or reboot the device.
If you just enable the feature, without configuring it, you won't be able to send&receive MMS messages, as our device doesn't fetch the configuration via mobile network automatically. You would probably see in Gammu log entry like that:
MMSC is empty, have you configured MMS settings?
If you configure MMS APN with incorrect configuration (e.g filled with internet APN settings), device will probably connect to it, but won't be able to transmit MMS messages.